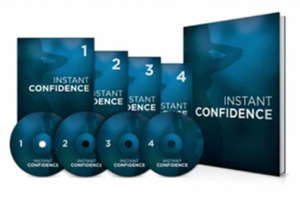 We all know how important it is to be confident with women, right? Most people agree that this is the #1 thing that attracts women… The trouble –  just how does a guy become confident?  Well, that's the question Adam Gilad is attempting to answer in his new "Instant Confidence with Women" program.
In this Instant Confidence with women review I'm gonna take a look at what you get with Adam's program, pros and cons, how this program is different, and give you my official verdict on it.
What you get with Instant Confidence with Women:
The basic selling point of this program is that it will help you to become confident, but it is different than a lot of the other "become confident with women" programs because it doesn't require you to get all "alpha"… The focus on alpha-ness in other programs has always been a turn off for me because not every guy can be the big bad alpha man.
Nor does every guy want to be that guy, I certainly don't, and I don't think that it's necessary.
What the Instant Confidence program teaches you is how to feel sure of yourself with women without needing to make any drastic changes or play any fake roles… that's refreshing.
The product comes as
The Instant Confidence Training Manual – Explains in detail the 4 foundations Adam teaches for becoming confident with women… Confident mindset, Confident Conversation Skills, Confident Body Language, Confident Social Authority, and gives you practical applications for all this stuff.
The Instant Confidence Audio Book – Which is an audio version, which I prefer…
Interviews With 6 Leading Experts On Confidence – Jon Sinn teaches his 4 step seduction roadmap, David Wygant's Confident Phone Game Blueprint, Dr. Robert Glover the famous "No More Mr. Nice Guy" guy on how to end shy and hesitant behavior, And Carlos Xuma on how to turn on women by having a bit of an "edge" while maintaining your true identity, John Romaniello teaches body-sculpting (this dude is good for the fitness stuff), David Shade on getting her to release her "naughty girl" side.
Pros and Cons:
Pros:
I think the thing that I really liked best is the fact that this is a program for men, not highschool boys who want to be big time "playaz"… I review a lot of PUA guides, and I get so sick of all the same old Mystery Method crap over and over again. Dudes need to grow up. Instant Confidence on the other hand teaches you real stuff that you can apply and feel good about… I guess what I'm trying to say here is that what Adam teaches sounds authentic, and you feel authentic applying it.
The part on getting rid of your "confidence killers" is pure genius.
I like Adam's body language and "body confidence" stuff. He has a whole series of body language practices, and I've had a lot of success with it myself and I think that this alone can do a lot to help guys feel and apppear more confident.
The conversation stuff is good. Obviously this is an important part of attracting women, and Adam's techniques are different than what the "PUA community" teaches.
Cons:
What's bad… There's nothing I really disliked about this program. However, the name may be slightly misleading if you think that if you get the program that you are going to "instantly" become confident… But, commonsense should tell you that anyway. Becoming a man who is confident with women is one of the most important things that you can do in your life, so it makes sense that it should take you a while to fully develop in this area.
My Verdict…
I agree with Adam that confidence is the key thing when it comes to attracting women. If you aren't confident then it doesn't matter if you are good looking, rich etc… women STILL won't want to date you… So I'd advise you to do everything that you can to become more confident.
To that end, I think any guy who is looking to become more confident with women should get Adam's program. I'd also advise you to go through all the material at least twice, I find that's the best way to get the most out of these sorts of home study courses…
Low confidence is an epidemic, don't be a victim! Click Here For The Official Website